Heydar Aliyev Center in Baku
Many of those who happened to see the design of the Heydar Aliyev Center for the first time had hard times to believe that such a project might ever come true. In fact, even in theory, the erection of the building of a such extraordinary design looked far from being anyhow realistic.
Construction of the Center's facility was launched in 2007 and completed on May 10, 2012, to celebrate the National Leader's 89th anniversary. Recognized as one of the world's masterpieces in architecture, the Heydar Aliyev Center has immediately grown into a signature architectural landmark of modern Baku. Zaha Hadid, the author of the building's design, is a worldwide recognized architect and the winner of the prestigious Pritzker Architecture Prize.
Not a single straight line was used in the Center's design.

The overall shape of the building resembles a wave-like ascension from the ground towards the sky followed by gradual descent down to the earth. This is not only a tribute to post-modern architecture, but also a portrayal of an eternal cycle.
The lines on the building-bridge the past with the present.
Harmonious link between the Center's exterior and interior aspires to remove any boundaries in the building's perception considering that this place is meant to be open anyone irrespective of gender, race and origin by bringing people together united by shared ideas.
Metal construction network with an overall lenghth of 90 kilometers was used for the building's roof covering only. 12 027 pieces of special panels of a very specific shape of its own varying from triangle to trapezoid and from rectangle to parallelogram were used on the Center's roof,which has an overall coverage 40 000 square meters.
Total Area: 15,93 ha
Indoor Area: 101.801 m2
Landscape: 13.58 ha
Highest Point: 74,1 m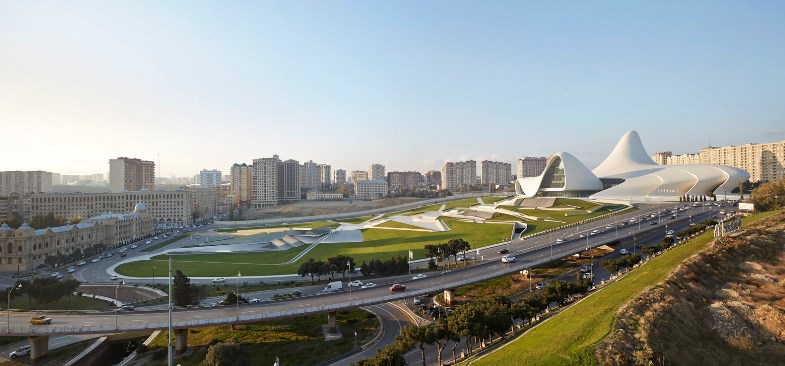 The whole complex encompasses the main building, underground parking and adjacent landscape area. The landscape area includes 2 decorative pools and an artificial lake.
The building's dominant white color,along with symbolizing the bright future,also conveys a set of specific messages.It is this color that through a very unusual natural light reflection spells out the building's eye-catching shape.
The major edifice encompasses the following 3 sections:
1. The Heydar Aliyev Museum
2. The Exhibition Halls. This section occupies 9 floors with exhibition halls, administrative office and a cafeteria.
3. The Auditorium. This section of 4 levels embraces 2 multifunctional conference halls, meeting rooms and the media center.
Reference: Heydar Aliyev Center official website
www.heydaraliyevcenter.az/#3_Architecturalsymbol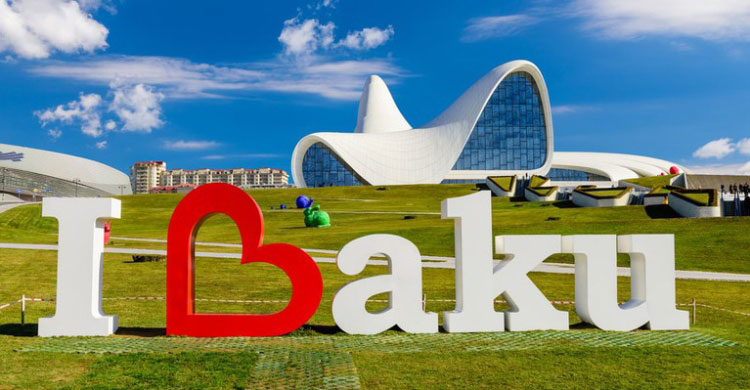 ---
How useful was this blog?
Average rating 4.6 / 5. Vote count: 16
Thank you for rating this blog!
---
---
Read the latest from our blog.
Leave a comment